Nothing makes me ignore my bank balance faster than one of those glossy little holiday brochures with page after page using words like 'resort' 'spa' and 'located on a private peninsular'. And if there's any mention of FREE BREAKFAST I've got my cheque book out before you can say 'banana waffles'.
So when TJ and I realised we were coming up on a big anniversary - we thought 'what the heck - let's go!'. I mean really, who needs money anyway, right? Paying the rent is grossly overrated.
We're thinking Thailand, because it's beautiful, close to home, the food is freaking AMAZING and it's where we spent our first honeymoon all those years ago. That time, feeling young and adventurous, we took the train up to the Golden Triangle and did the whole jungle and hot-tail- up-the Mekong River thing. This time, ten years later, it's Southern Thailand and places like this: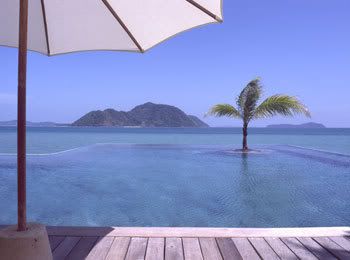 AGGGH! That just looks so amazingly beautiful that I can't imagine not spending ten days of my life wondering how the heck that palm tree got all the way over there and if I could possibly rouse myself off my deck chair to swim over and check it out. It's called the Evason Six Senses Resort. What the? I thought I only had five senses! You mean if i come stay at your resort I get an extra one? How cool is that? What would the extra sense be? Psychic ability to know which deck chair will have me in the shade all day? Handy.
Then, of course, the pesky bank balance rears it's ugly head and I realise what we can afford is probably something more like this: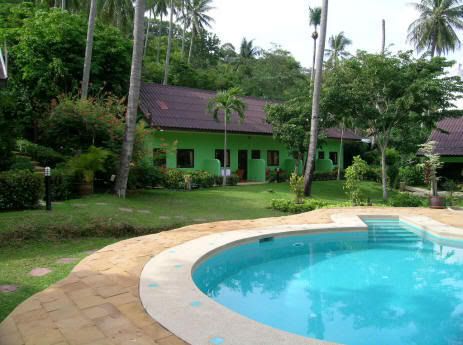 Where the only extra sense you get is the second coming of the dodgy PadThai you had at the hotel restaurant the night before.
Whichever way it goes, there will be swimming, eating, sleeping and a resumption of my love affair with green curry. Here's hoping I can resist having it for breakfast.