You know you're doing something right when an eight-year-old says to you "Aunty Robyn, you're like a kid in a grown ups body."
For me, feeling like an kid in an adult's body is standard fare ; I've always been young at heart, always ready for a laugh and often felt so full of joy I thought it would bubble over. I skipped a lot, jumped a lot, regularly rode the trolley down supermarket aisles like a bob cart. But lately it's felt like happiness and finding joy is something I have to choose rather than just experience.
Like tonight when my niece asked me to make fairy floss with her. Maybe two years ago the answer would have been 'hell yes!', because let's face it – making fairy floss sounds like a hoot. But instead I paused, thinking it might get messy. Huh? Since when have I been afraid of a little mess? I'm the original mess maker. I kicked myself, picked her up and spun her around and said said 'absolutely'.
But the pause made me pause. And while I was on my walk around the river tonight, I realized I've been gradually losing my inner girl. Even the walk itself was proof - my inner girl was the type who'd skip and run for the joy of it and would never think of walking like there was some freaky pole up her ass just because it might help her shed a few pounds.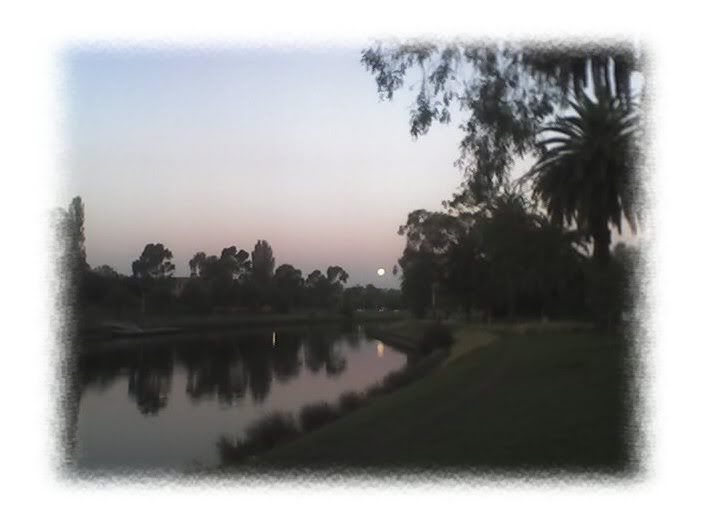 It was a beautiful night, one of those rare twilights where fiery orange hues meet flawless blue sky and the moon shed a pearly glow across the water. The crappy pic from my mobile below doesn't do it any justice. Something inside me started feeling sick that I was racing around the walking path without taking it in. What would my girl do?

She'd stop.
She'd stare and the beauty before her in awe and she'd let all the other joggers and health-nuts pass her by.
And then she'd look around and see there was a magnificent swing set just over to the right and it was calling her name.
So I stopped jogging and got on that swing. I was a little bit rusty but it came back really fast. The wind whipped through my hair and it seemed like I could see for miles across the treetops. I swung until it got dark and that pearly moon, suspended in the sky like a Christmas bauble, got brighter and brighter. When I finally slowed down, I heard a whisper from my inner girl - "I'm glad you're listening," she said.

Robyn
REVISION of YA 48/190 = 25%