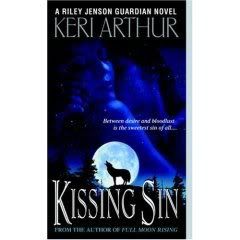 It's official -- Keri Arthur rocks :)
Her latest blockbuster book
Kissing Sin
was released the other day and as you can read on
her blog
, it has rocketed itself to N0. 18 on the
NYT bestsellers list
(see it up there after 18th Feb).
And really, this kind of success couldn't happen to a more deserving, hardworking and all around fabbo person who's generous with her time and knowledge.
I remember once, about three weeks after I'd joined our critique group. I was thinking of giving up (!) because I I had no clue how to write, no clue how to find a clue and everyone else seemed so effortlessly talented. I know if we hadn't had this small conversation, I'd still be floundering around at some wanky writers centre pretending I wasn't devouring romance novels fast enough to deforest the Amazon.
Me: "Thanks for everything, I'm not coming back to the group. I guess it just didn't work out."
Keri: "Don't be an idiot. You're coming along and you're bringing work and I don't want to hear another word about this."
or something along those lines along with a promise to show me her first manuscript to make me feel better.
I still smile when I think about it today because it was exactly what I needed to hear.
I feel constantly blessed to be on the other end of her unique blend of encouragement and no-nonsense attitude toward the writing life.

I'll stop now, because if she happens to be reading this she'll give me a hit on the head next time she sees me. But three cheers for you, Ms Kez, and may this success be followed by many more.